Screen Re-Stretching Service
Why Spot Color Supply Restretch Frames??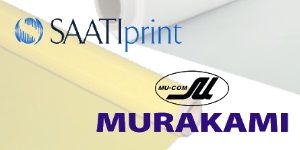 We "Only" use high quality Saati and Murakami mesh (No unknown house brands here!!)
The heart of every screen printing frame is the mesh it is restretched with. Just because mesh is labeled as low elongation doesn't mean it is true. Trust the leaders in our industry, Saati and Murakami have been manufacturing high tension, low-elongation mesh for many years.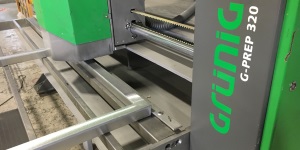 All frames are prepped using a Grunig G-Prep 320
In our quest to make the best restretched frames available, we found frame preparation to be difficult to accomplish by hand. The factory bead blast on most frames is a less than perfect glue surface, and belt sanders/grinders gave inconsistent results. The Grunig G-Prep 320 was the answer. The rotating cutter leaves a consistent highly textured surface, perfect for restretch frame glue adhesives.

Standard tension is 28-32 newtons on all mesh counts.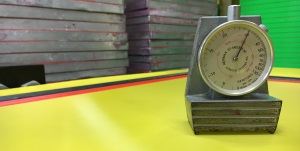 High tension restretch screens simply print better... High tension remesh equals more open area and lower off contact. No name mesh wont cut it (We tried). This is yet another reason why we only use High Quality Saati and Murakami mesh on all frames restretched here at spot color supply. Frames restretched to 28-32 newtons expecting them to settle around 23-25 newtons.
High Tension is an available option. (32-34 newtons)
Are you a tension snob...? We have the restretch frames for you!! Our equipment has been heavily modified to allow re-meshing to the manufacturers maximum tension levels. This results in even larger open area, lower off contact, and even faster prints.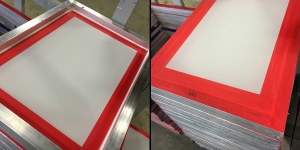 We only use High Quality 2 part polyurethane glue to restretch frames.
Frames restretched with two part polyurethane glue last longer beacuse the glue is more chemical resistant than CA (Super Glue) restretch frames. Plus 2 part glues are rubbery not brittle, so no sharp edges.
Like many things in life you get what you pay for!
Permanent blockout also available
Tired of wasting time and money on tape? Try permanent blockout!! We paint a 2" border inside the frame, then Finnish off with a bead of silicon around the inside edge. Just coat, burn, and its ready for the press.

We make our own boxes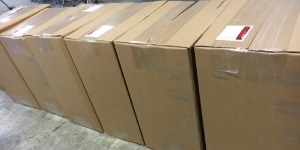 Yeah, it seems like an odd thing to brag about, but a tightly packed box becomes nearly UPS proof. In the years we have been open we have only had a hand full of frames pop in shipment due to this.